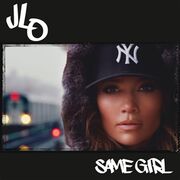 'Same Girl is a song recorded by Jennifer Lopez for her upcoming eighth studio album.
The song was written by Jennifer and Chris Brown in collaboration with the song's producers Antwan "Amadeus" Thompson, Charles "Chizzy" Stephens and Ryan "Ryghtous" Tedder.
The music video for "Same Girl" was directed by Steve Gomillion and Dennis Leupold in the Castle Hill neighbourhood of The Bronx (Jennifer's hometown).
Song Background
On March 21, 2013, Jennifer tweeted a picture of herself in the recording studio with her long-time collaborator Cory Rooney and singer Chris Brown.
She captioned the picture with the hashtag "#SAMEGIRL", leading some to believe that it was either a song title or the name of Jennifer's upcoming eighth studio album.
Several days later, Chris described their collaborations as being "fun stuff" and "party music."
In April, Jennifer commented that she and Chris were "in the studio, writing songs and just getting that whole 'Jenny from the Block' flavor back."
She also revealed that they "worked on a bunch of ideas" and that they had discussed the possibility of recording a duet for Chris' upcoming sixth studio album "X."
In September of 2013, Chris revealed the titles of two songs that he had written for Jennifer: "Emotions" and "Same Girl."
On January 13, 2014, during her appearance on "The Tonight Show," Jennifer shared a 45-second preview of "Same Girl" and its music video.
Two days later, Jennifer revealed that the snippet was "just something [she] was doing for the fans" and that the song was not the first single from her upcoming album despite previous reports that it was.
Songwriting & Production
Music Video
Community content is available under
CC-BY-SA
unless otherwise noted.