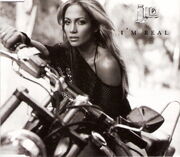 I'm Real is a song recorded by Jennifer Lopez.
The original version is featured on her second studio album J.Lo and the "Murder Remix" version (featuring rapper Ja Rule) is featured on Jennifer's remix album "J to tha L–O!: The Remixes" & Ja Rule's 2001 album "Pain is Love."
The original version was released as the album's fourth single and was well received by music critics who complimented the '80s style while the remix version received mixed reviews for the lyrics.
However, both versions of the song have been appreciated for the use of the samples.
Ja Rule had been brought in after the moderate U.S. performance of "Play" the second single from J.Lo.
Singer Ashanti (also on The Inc.) provided backing vocals on the Murder Remix.
The "Murder Remix" topped the Billboard Hot 100 for five non-consecutive weeks, beginning September 8, 2001 and also topped the Hot 100 Airplay chart.
The two songs are essentially different songs with the same title and much controversy followed the song after its release.
Two music videos were made for the track with the first depicting Jennifer driving a motorcycle throughout the highway and featuring a dance-break while the second video features Ja Rule and Irv Gotti.
Song Background & Release
The original version of "I'm Real" was recorded by Lopez for her second studio album J.Lo which had 14 other tracks.
Released on January 23, 2001, J.Lo debuted at the summit of the Billboard 200 with first-week sales of 272,000 copies and was a commercial success.
On July 24, 2001 (on Jennifer's thirty-second birthday) the album was re-issued with a Murder Remix version of "I'm Real" written by Ja Rule included as a new track.
The new version, which was also a single from the album, allowed the album to propel from the 90th position of the Billboard 200 back to the top ten according to Nielsen SoundScan.
Following the release of "I'm Real (Murder Remix)," Jennifer's personal sound had shifted away from a pure pop or R&B to more of a hip hop sound.
Ja Rule praised Lopez while working with her on the track, stating:
"She's mad cool. She goes in, knocks the sh-- out, no problem [...] I love artists like that," and also said that her audience now wanted a different sound from her, "It's J.Lo now because of 'I'm Real' [...] It's gonna put her in another zone. After this one, they gonna be expecting hot crossover R&B joints from J.Lo. They ain't gonna want the pop version of J.Lo no more, they gonna want the 'I'm Real' version."
Ja Rule stated that he enjoyed working with Jennifer and that it was a "real collaboration" by saying:
"Sometimes when you do a collaboration with an artist it's not real collaborations [...] 'Send me a reel here. I'll fly it back here.' Me and J. Lo's record was a real collaboration."
Composition & Lyrics
The original version of "I'm Real" was written by Jennifer Lopez, Troy Oliver, Cory Rooney and Leshan David Lewis with production being handled by Oliver & Rooney.
The "Murder Remix" received additional lyrics by Ja Rule, Irv Gotti and Rick James while production was done by Gotti and 7 Aurelius.
The song is a pop and R&B song, also considered a "retro pop" and synthpop track.
Lyrically, in "I'm Real," Jennifer offers voluptuous good times as long as you "don't ask me where I've been."
While she brags that she's made you fall in love, a male voice chants She's a bad, bad bitch."
Music Video
Original Version Video
"Murder Remix" Video
Critical Reception
Live Perfomances
Controversy
Certifications
Community content is available under
CC-BY-SA
unless otherwise noted.