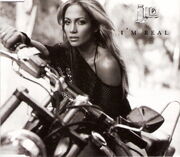 I'm Real is a song recorded by Jennifer Lopez.
The original version is featured on her second studio album J.Lo and the "Murder Remix" version (featuring rapper Ja Rule) is featured on Jennifer's remix album "J to tha L–O!: The Remixes" & Ja Rule's 2001 album "Pain is Love."
The original version was released as the album's fourth single and was well received by music critics who complimented the '80s style while the remix version received mixed reviews for the lyrics.
However, both versions of the song have been appreciated for the use of the samples.
Ja Rule had been brought in after the moderate U.S. performance of "Play" the second single from J.Lo.
Singer Ashanti (also on The Inc.) provided backing vocals on the Murder Remix.
The "Murder Remix" topped the Billboard Hot 100 for five non-consecutive weeks, beginning September 8, 2001 and also topped the Hot 100 Airplay chart.
The two songs are essentially different songs with the same title and much controversy followed the song after its release.
Two music videos were made for the track with the first depicting Jennifer driving a motorcycle throughout the highway and featuring a dance-break while the second video features Ja Rule and Irv Gotti.
Song Background & Release
Composition & Lyrics
Music Video
Original Version Video
"Murder Remix" Video
Critical Reception
Live Perfomances
Controversy
Certifications
Community content is available under
CC-BY-SA
unless otherwise noted.