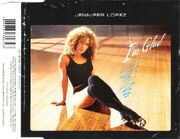 I'm Glad is a song recorded by Jennifer Lopez for her third studio album This Is Me... Then
It was written by Jennifer, Troy Oliver, Cory Rooney, Mr. Deyo and Jesse Weaver Jr. and produced by Oliver & Rooney.
It was released as the album's third single on April 8, 2003.
"I'm Glad" is an R&B and dance-pop song about finding the right lover after a long period of time.
It received positive reviews by music critics who find the track one of the highlight from the album.
The song did not follow the success of the previous singles, peaking only at number 32 on the Billboard Hot 100 chart.
However, the song proved to be more successful in Australia, Canada and Netherlands where it peaked inside the top-ten.
In 2003, following the use of dance routines from the film "Flashdance" in the music video for "I'm Glad" (directed by David LaChapelle), Maureen Marder sued Jennifer, Sony Corporation and Paramount in an attempt to gain a copyright interest in the film.
Song Background & Release
While recording the album, Jennifer stated:
"They just stay with you... I wanted to do something that's true to me and how I grew up, but I also wanted to make beautiful songs. So I'd listen to records from today and I would listen to records from back then, and [eventually] I'd go, 'That's what I want.'"
Among some songs written for the album, "I'm Glad" was conceived and recorded at the Hit Factory, in New York.
After releasing "Jenny from the Block" and "All I Have" as singles with the latter topping the Billboard Hot 100 chart, "I'm Glad" was announced as the third single to be released on April 8, 2003.
According to Jennifer, she initially didn't want "Jenny from the Block" or "All I Have" to be released as singles from the album.
She felt that the tracks were too similar to her previous singles such as "Ain't It Funny" and "I'm Real." She felt like she was "visiting old territory."
According to Jennifer:
"Those tracks were like a different era for me, and I didn't want people to perceive it like I'm just trying to capitalize on the same thing. But the record company was like, 'Who cares what they think, those are hits mama!"
Jennifer (who stated she "calls the shots") eventually agreed.
Composition & Lyrics
"I'm Glad" is a contemporary R&B song which includes elements of dance-pop and soul music, with a length of three minutes and forty-two seconds.
It was written by Jennifer, Cory Rooney, Troy Oliver and Andre Deyo with Oliver & Rooney serving as producers.
The song contains a sample of Schoolly D's 1986 song "P.S.K. What Does It Mean?" which was originally written by Jesse Weaver, Jr.
It was reported by the magazine Face Up that Ben Affleck played "I'm Glad" when he proposed to Jennifer.
Lyrically, "I'm Glad" is about finding the right lover after a long period of time.
A minute into the song, Jennifer sings about meeting someone for the first time unexpectedly, "Baby when I think about/The day that we first met/Wasn't looking for what I found/But I found you/And I'm bound to/find happiness in bein' around you."
Jennifer exhales in the pre-chorus deeply, "I think I'm in love/Damn, finally!" During the chorus, she sings about lovemaking, feeling "glad for the way" her lover makes her feel because he seems to "blow" her mind every time.
She also expresses gratefulness for him lavishing her with affection. In the song's bridge, Jennifer continues to sing about finding the man who has made her life "worth living."
At its conclusion, she sings, "say that you won't leave/'cause since the day you came/I'm glad."
Music Video
Video Synopsis
Video Reception
Controversy & Lawsuit
Commercial Reception