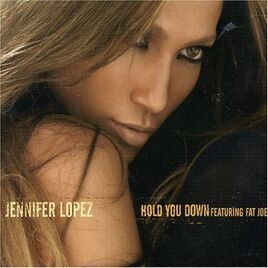 "Hold You Down" featuring rapper Fat Joe is the second & last single from Jennifer Lopez's fourth studio album "Rebirth."
The song was written by Gregory Christopher, Gregory Bruno, Makeba Riddick, Joseph Cartagena, Cory Rooney, Larry Troutman and Billy Beck & produced by Nyce Boy, Gregory Bruno and Cory Rooney. The song samples R&B singer Shirley Murdock's song "As We Lay."
Song Reception
Edit
The song received mixed reviews from music critics. According to musicOMH's Sam Shepherd:
"The lyrics are sweet but not sickly so, and Fat Joe's appearance doesn't sound like he's co-opted the track - instead he allows Lopez's voice room to breathe; and who would have guessed it, she may have an asset that is more impressive than her booty."
Yahoo! Voices' Justin Lewis compared the song to "All I Have" commenting that the song "tries to duplicate the success by replicating its formula: taking the same mellow R&B production, splicing it with another vintage R&B sample and only replacing LL Cool J with Fat Joe." He also wrote that "the effect isn't the same. While "All I Have" seemed to have some chemistry between J. Lo & LL and some life to it, even if it's heart is in the right place, this just sounds like a lazy afterthought."
PopMatters' Mike Schiller called the song an "ill-fated, milquetoast duet with Fat Joe." Entertainment Weekly's David Browne commented on the song that "even with Fat Joe pitching in, the song is as colorless as Lopez's voice."
Music Video
Edit
The video was released on March 7, 2005. It was directed by Diane Martel and edited by Paul Martinez.
The video takes place in the Bronx, New York where Jennifer is seen singing on top of a building and in a hallway while Fat Joe is shown roaming the streets.
Chart Appearance
Edit
In the United States, the song peaked at #64 on the Billboard Hot 100 and #27 on Billboard's Pop Songs chart. It was moderately successful in the United Kingdom, Australia, Belgium, Europe, Germany, Ireland, Italy, the Netherlands, New Zealand, Spain and Switzerland.
Community content is available under
CC-BY-SA
unless otherwise noted.