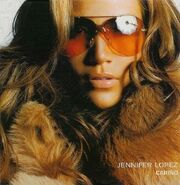 Cariño is a song by Jennifer Lopez from her second studio album J.Lo.
The song was released as a promotional single in Spain. It's unknown how it charted there.
The song was written by Jennifer, Cory Rooney, Manny Benito, Neal Creque, Jose Sanchez, Frank Rodriguez, Guillermo Edghill, Jr. and Mongo Santamaria
It was produced by Jose Sanchez, Frank Rodriguez, Guillermo Edghill, Jr. and Cory Rooney.
Songwriting & Production
Jennifer and her fellow writer Cory Rooney (who she works closely with) came up with the song during early studio recording sessions for J.Lo.
According to Jennifer, it took "forever" to develop and stated:
"I couldn't write it, Cory couldn't write it. We had other people try to write it. No one could write this damn song."
Eventually, multiple people were brought in to contribute to the song's lyrics, including Manny Benito, Neal Creque, Jose Sanchez, Frank Rodriguez and Guillermo Edghill, Jr.
While Jennifer was in Europe promoting The Cell, Rooney called her and told her he had finished writing the song which he described as "sexy."
Jennifer "loved it," although she slightly changed the chorus.
Composition
"Cariño" is a heavily influenced bilingual Latin pop song which runs for a duration of four minutes and fifteen seconds.
Jennifer recorded her vocals for the track with Robert Williams at the Sony Music Studios in New York City.
The song was later mixed by Tony Maserati and mastered by Ted Jensen at the Sterling Sound Studios, New York City.
She stated that "Cariño" is a "cha-ca-inspired" "Latin-y pop track."
Jennifer explained the term "Cariño" to mean "love and affection." Speaking of the lyrics, she stated:
"It's when you touch and it's very affectionate. You can also call someone cariño. It's just a term of affection."
The song is built around an interpolation of Cuban percussionist Mongo Santamaria's 1976 song "Sofrito."
In the chorus for "Cariño" (which includes several of Jennifer's sexual "emotive cries"), she tells her lover that she "gotta have" his love and needs to feel his touch, stating that she could "never get enough, cariño, cariño."
Furthermore, the song contains horn and Mambo horn sections. Additionally, "Cariño" features a heavily Latin-influenced live rhythm section.
Critical Response
Live Performance
Personnel
Community content is available under
CC-BY-SA
unless otherwise noted.