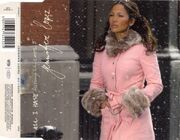 All I Have is a song recorded by Jennifer Lopez featuring rapper LL Cool J.
The song was written by Jennifer, Makeba Riddick, Curtis Richardson and Ron G and produced by Cory Rooney, Ron G * Dave McPherson.
The song was released in December of 2002 as the second single from Jennifer's third studio album This Is Me... Then.
The song samples Debra Laws' song "Very Special" who later filed a lawsuit in 2003 against Sony Music Entertainment for "misappropriating her voice" in the song and her name in the credits.
The song is a midtempo R&B and hip-hop ballad about moving on after a breakup.
It received favorable reviews from music critics who applauded the chemistry between Lopez and LL Cool J.
The song was a huge success on the charts, reaching number one in the United States (remaining at the top for four weeks) and New Zealand and entering the top five and the top ten in several countries.
After the success of "All I Have" with LL Cool J, the track was included on the re-issue of his album 10.
The song was ranked as the 15th most successful song on the Billboard Hot 100 of 2003.
Song Background & Release
Composition
Music Video
Video Synopsis
Video Reception
Critical Response
Controversy & Lawsuit
Even with the success of the song in March 2003, Debra Laws sued Sony Music Entertainment/Epic Records in the United States District Court for the Central District of California, claiming that the use of samples from "Very Special" without her consent even though the writers of "Very Special" and Elektra Entertainment Group—successor to Elektra/Asylum Records (which had released the original recording of "Very Special") had given their consent to the use of the samples) violated her statutory and common law right of publicity under California law.
In November of 2003, Judge Lourdes Baird granted Sony Music's motion for summary judgment on the ground that Laws's state law claims were preempted by Section 301 of the United States Copyright Act.
In 2006, that decision was affirmed by the United States Court of Appeals for the Ninth Circuit.
Certifications
The song was certified Gold in New Zealand & Platinum in Australia.