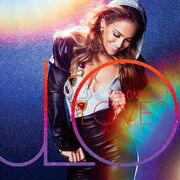 (What is) Love is a song recorded by Jennifer Lopez.
Originally entitled "What Is Love?", the song appeared on the soundtrack to the 2010 film "The Back-up Plan" which she stars in.
The song was later included on her seventh studio album Love? as the album's title track.
"(What Is) Love?" is a midtempo electropop song written by Diana "Wynter" Gordon, with the song's producer Emile "D'Mile" Dernst II. The song is about "not knowing what love is."
A remix of "(What Is) Love?", entitled "What Is Love? Part II" was produced by Jean-Baptiste.
It was considered for inclusion on "Love?" and was leaked onto the internet in April of 2013.
"(What Is) Love?" received generally positive acclaim from music critics, who compared it to her work circa 2003.
The song was due to be released as a promotional single from Love? on April 26, 2011, but it was "unlocked" and released on April 22, 2011 by Island Records through a campaign on Jennifer's Facebook page.
Upon the song's promotional release, the song debuted at number 97 on the South Korea Gaon International Chart and at 33 on the Productores de Música de España.
Songwriting & Production
Song Leak & Release
What is Love (Part II)
Critical Response
Personnel
Community content is available under
CC-BY-SA
unless otherwise noted.